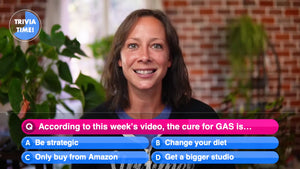 Animated Trivia Time Overlays for Ecamm Live, OBS, and vMix
Increase engagement during your LIVE Streams with our Animated Trivia Overlays for Ecamm, OBS, and vMix.
WHAT YOU'RE GETTING:
Animated Trivia Overlays (WebM format)
Setup files for Ecamm & vMix
Stream Deck / Loupedeck Keys
PDF Guide
COMPATIBILITY:



WHAT THEY LOOK LIKE:
Note: this preview version is 30 seconds, but the version you get is 40 seconds. We made the final version longer to allow plenty of time for the question to be read AND for the answers to come in. 
HOW THEY WORK:
The overlays feature spaces to add a question and four potential answers using the text options found in Ecamm, vMix, and OBS.
Each overlay counts down for 40 seconds, and then automatically reveals the correct answer by turning its background green. Four different overlays are provided - one for each correct answer (A, B, C, D).

So, all you need to do is decide where you want your correct answer to appear (A, B, C, or D), load in the corresponding overlay, and add your question and answers.

Your chat types what they think is the correct answer. You could choose to have a single winner (first person to answer correctly), or just give shoutouts to everybody who answered correctly.
Important: the overlays can not be used in StreamYard or Restream Studio because they do not support video files with alpha transparency.
---
We Also Recommend